Diversity, Equity & Inclusion
Diversity and inclusion are fundamental values of Lancaster Colony Corporation and its wholly owned subsidiary T. Marzetti Company. We strive to Nourish Growth with All that We Do and believe that our potential for growth is maximized by a strong organizational culture that values diversity as a necessary component for long-term success in business. We value a corporate culture that nourishes growth in people and community; a culture where people are free to be their authentic self and where dignity is a daily experience for everyone.
We are committed to building a culture that values and promotes diversity, inclusion, and equal employment opportunities. This includes:
• Applying principles of equity to achieve equal employment opportunities for qualified individuals of all backgrounds.
• Attracting, recruiting, retaining, engaging, supporting, developing, and advancing underrepresented and diverse team members.
• Promoting respectfulness, cultural awareness, and inclusivity by:
-> Fostering a collaborative work environment in which all team members participate and contribute;
-> Empowering and providing a safe space for all team members to express themselves, exchange ideas, and feel heard; and
-> Encouraging team members to be respectful and have an open mind when hearing others' experiences and perspectives.
Diversity and inclusion are related and equally important concepts. Diversity includes, but is not limited to, differences in race, color, national origin, citizenship, ancestry, religion, gender, pregnancy, age, physical or mental disability, genetic information, military or veteran status, or any other classes or characteristics protected by applicable federal, state, or local law. Diversity also includes differences in backgrounds, experiences, perspectives, thoughts, interests, and ideas. Inclusion means ensuring that all employees are valued, heard, engaged, and involved at work and have full opportunities to collaborate, contribute, and grow professionally.
Employee Resource Group
The company supports the formation of Employee Resource Groups and currently sponsors four active ERGs.
Diversity at T. Marzetti
Our BRIDGES team members
ERG Event at our R&D Center
Dragon Boat race for Asian Pacific Heritage Month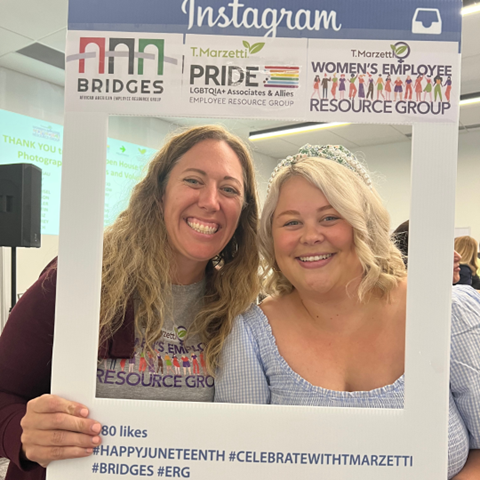 WERG Leaders at our ERG Event
Women's Employee Resource Group (WERG) Team Members
HR Team Members at our ERG Event
T. Marzetti's LGBTQIA+ Employee Resource Group
Leaders of Young Professionals ERG at T. Marzetti's corporate office